Certified Electronic Contracts
Signature of online and digital contracts. Save time and money
The largest service of Contracts and Electronic Signature
ELECTRONIC CONTRACTS CERTIFICATES BY EMAIL, SMS (MOBILE OR TABLETS)
Formalize all kinds of contracts for your business from your computer or mobile phone with full availability and without waiting times.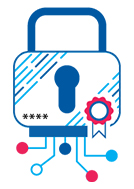 With Full Signature you can sign

Certified Electronic Contracts

with

full legal validity

from any device:

PC, mobile phone or Tablets

in a few minutes through Full Certificate.

For companies with a larger volume of contracts, we recommend the implementation of Electronic Contract Automation projects that will allow you to execute and sign contracts online much faster and cheaper with great time savings and total systems integration.

Each month we issue thousands of contracts that are electronically signed with full legal validity in a few minutes. Within the typology of contracts, the most common are the following:

Commercial

contracts

Labor

contracts

Purchase-sale and rental

contracts
Contracts from

web forms

Medical

agreements and consents

RGPD

agreements

and confidentiality
Online Contracts and Smart Contracts
There are two main types of electronic contracts. These contracts are:

*Certified Online Contracts
* Smart Contracts

This, in turn, allows all types of electronic contract signing projects to be carried out, as indicated below.
Online Contracts

Smart Contracts

Smart Contracts are advanced electronic contracts that cover and

automate all the processes associated with contract variables, including collections, billing and online recoveries in case of default.
If you want more information about this special type of contracts,

click here.
Full Signature & Full Certificate has developed

one of the best electronic signature services of online contracts

according to the needs of each client as indicated below.
Electronic Signature Process – Types of eSignature
Full Signature, in accordance with the European regulations eIDAS, offers the following electronic signature options to your clients:
Simple Electronic Signature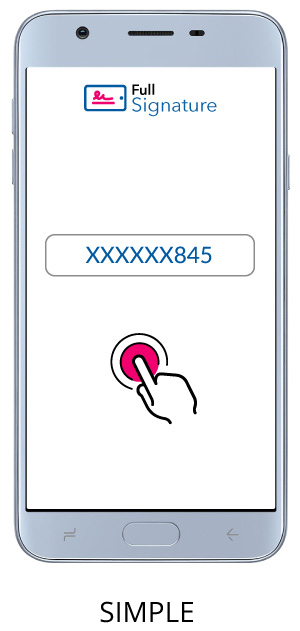 It is the signature most used in the formalization of Contracts Online for its ease of use.
Great signing speed
Signature using encrypted and personalized alphanumeric code single use only
Use: All types of contracts
Legal validity
Advanced Electronic Signature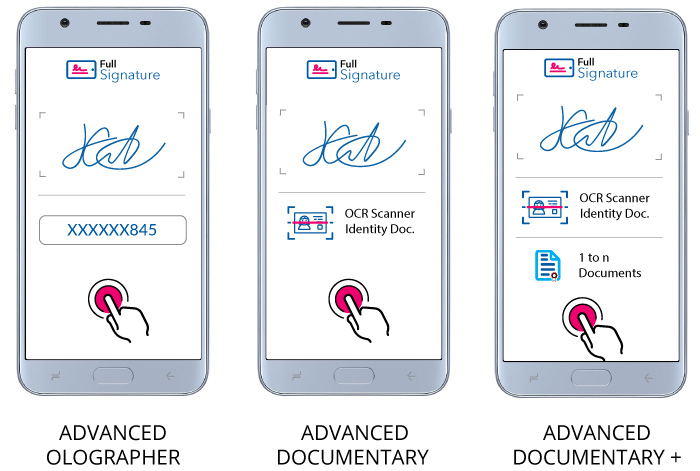 Ideal for the formalization of Online Contracts, Agreements and Consents.
Easy to execute oleograph signature
Optional:

Double signature with alphanumeric code
Identification Document Scan
Documentary upload on demand

Use: All types of contracts
Legal validity"
Advanced Biometric Electronic Signature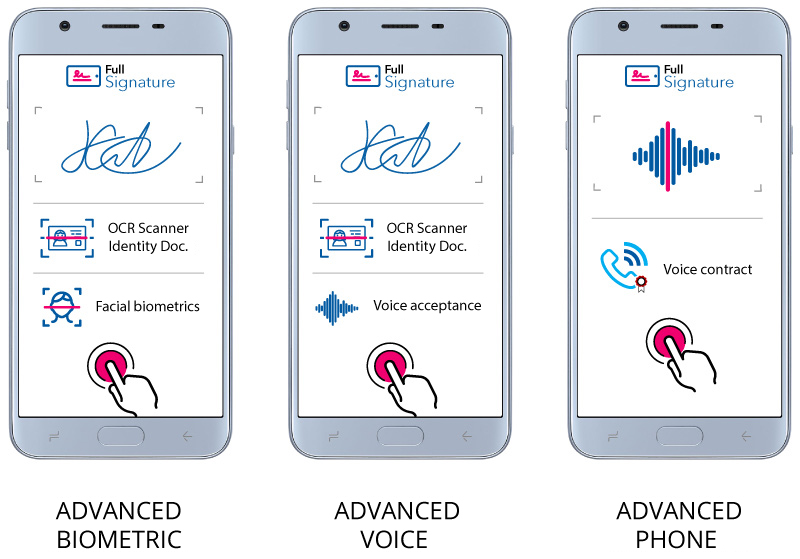 Easy to execute holographic signature
Signature with voice recording
Signature by phone call

Optional with scan of:

Identification document
Facial Recognition

Usual use in Call Center and Online Services.
Legal validity
Qualified Electronic Signature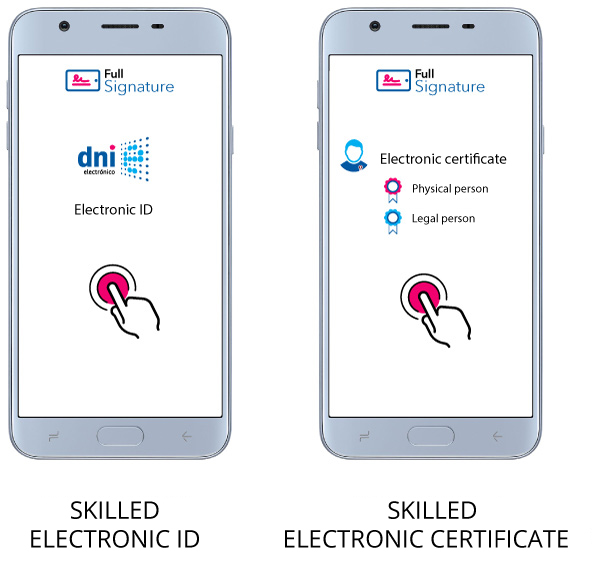 Electronic signature through eDNI or Electronic Certificate
Low implantation in individuals
Usual use in relations with the administration, electronic vote and signing contracts.
Maximum legal security
Total legal validity
All Electronic Contracts Certified by Full Signature & Full Certificate offer legal validity through the issuance of electronic certificates containing all electronic evidence of the will of the parties regarding the receipt, access to information and acceptance of the terms and conditions of the contract received.
These processes save a great amount of time and resources for individuals, companies and professional offices.
The figure of Full Certificate as an Electronic Trust Service Provider guarantees that their contracts and agreements have full legal validity, as well as a correct execution of the signature process between the parties. In addition to a custody of them for a minimum of 5 years.
A fast, economic, and useful service that you can perform from your computer, saving time and work. We also offer, with all our products, the possibility of requesting our Notarial Testimony services.
If you would like a consultant to contact you personally or to get to know first hand what the Online Contract signing projects are like, please contact us by clicking here.
KEY BENEFITS TO WORK WITH US
THE ELECTRONIC SIGNATURE PROCESS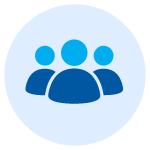 Select one or multiple recipients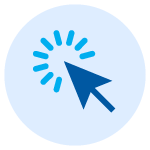 Sending and activation of the contract: eMail, SMS, Web Forms, Apps, etc.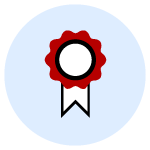 Certification of electronic evidence of the communication made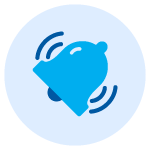 Automated reminders and possibility of re-sending the contract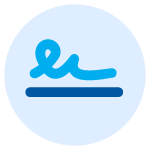 Acceptance and electronic signature of the contract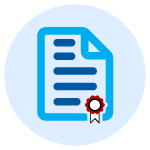 Consolidated and certified electronic contract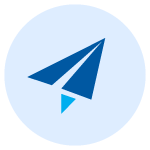 Sending the contract to all the signatories
If you want a consultant to contact you personally, click here.
COMPETITIVE PRICES
On demand service with no fees and no commitments
| | Euros |
| --- | --- |
| 1 Signer | 1,66 |
| For each additional Signer | 0,83 |
| For each additional Mb | 0,83 |
Signing of contracts with subsidized plans
Characteristics of the plans
| | PROFESSIONAL PLAN | LAW FIRM PLAN | COMPANY PLAN | CORPORATE PLAN |
| --- | --- | --- | --- | --- |
| Users in the plan: | Unlimited | Unlimited | Unlimited | Unlimited |
| Reminders: | Unlimited | Unlimited | Unlimited | Unlimited |
| Resend of contracts:: | Unlimited | Unlimited | Unlimited | Unlimited |
| Cancellation of contracts: | Yes | Yes | Yes | Yes |
| Date signature limits: | Yes | Yes | Yes | Yes |
| Custom logo: | Yes | Yes | Yes | Yes |
| Shipment of lots | Yes | Yes | Yes | Yes |
| Automated downloads | Yes | Yes | Yes | Yes |
| SalesForce integration: | No | No | No | Yes |
| API Integration: | No | No | No | Yes |
| Changes of plan: | Yes with Payment / year | Yes with Payment / year | Yes with Payment / year | Yes with Payment / year |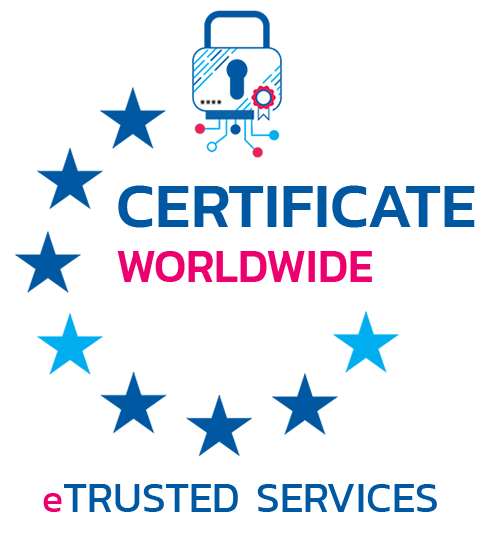 REGISTER FOR FREE
Try our Certified Services with full legal validity.

No fees, no contracts.
Your balance never expires.
WE CALL YOU
Enter your information and
We will call you as soon as possible.
CONTACT INFORMATION
Teléfono: (0034) 91 005 26 59
Dirección: C / Boix and Morer 6, Attic. 28003 Madrid, Spain